About Ed

The story of London and LA based producer, music director and sax player, Ed Barker...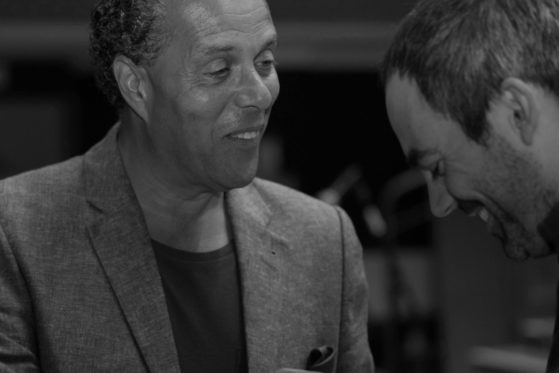 Ed has a unique background in jazz, pop and classical music which means that every production or musical arrangement he is involved with fuses a myriad of musical traditions.
He is one of the UK's most renowned saxophonists, known especially for his solos for international pop legend, the late George Michael. His debut album, Simple Truth rocketed up the US independent pop charts and Ed is currently the Producer and Music Director of the new show, Lance Ellington Sings Broadway, which features the BBC Strictly Come Dancing lead vocalist, Lance Ellington.  Ed has also served as Music Director for the X-Factor contestant, Anton Stephans.
LANCE ELLINGTON -
"an incredible talent"
GEORGE MICHAEL -
On the saxophone, Mr Ed Barker!
DAVE KOZ -
Ed's got a beautiful sound
ANTON STEPHANS -
"a rare genius"
It started with a note from the Prime Minister, a US No. 1 hit and a solo for George Michael...
In 2012, British saxophonist, Ed Barker, performed a sax solo for one of the world's most iconic pop musicians of our time: George Michael. Ed performed the sax solo on George Michael's hit single, Cowboys And Angels to tens of thousands of fans around the UK as George introduced Ed personally to the crowd each night. It was this sax solo that put Ed on the map.
And yet Ed was, at the same time, working in quite a different field…
At the same time as touring as George Michael's sax soloist, Ed was making frequent visits to the British Parliament, sitting in an office directly beneath Big Ben, writing speeches for senior British politicians!
Ed has always said that songwriting and speechwriting are similar skills:
For me, whether you're using words or notes, it is all still just a form of communication and the most successful speeches or songs are those which inspire an audience emotionally.
So after the tour with George Michael, Ed decided to put this to test as he put together his debut solo album, Simple Truth (January 2014) with some unexpected results…
Within a couple of months of the album's release, one of the songs charted – not in the more niche US jazz charts but in the US pop charts.
Hear Ed play LIVE with GEORGE MICHAEL…
No. 1 in the American
Independent Pop Charts
Liz Ellis, BBC RADIO STOKE
Ed's music is so crisp and refreshing,
truly uplifting, such a pleasure to sit
back and fall in love with the sax again...
When You Smile (which features BBC Strictly Come Dancing singer, Lance Ellington) was played almost 23,000 times on radio stations around the USA (including Billboard Stations) and it soon hit #1 on the US Independent Mainstream Network, as well as #1 on the Indie Adult Contemporary Chart, #3 on the Adult Contemporary (AC) Main Chart and #17 on the US Top 40 Main Chart.
Snapped up by a manager out in Los Angeles, Ed headed over to the US to capitalise on the chart activity – unprecedented for a solo sax player since the days of the Brecker Brothers.
Whilst out there Ed set up the much anticipated Ed Sax School.  This online education forum allows students from anywhere in the world to take lessons in jazz and saxophone with Ed at any time of day or night!
From Hollywood, Ed also wrote and produced a single featuring his two sisters, Annabelle and Eloise Barker, both fantastic vocalists. Feel It In Your Genes was released officially to UK Radio in February 2016.
He auditioned on clarinet for Britain's National Youth Orchestra (NYO) and was invited back for a final audition in the Summer of 2001. Before the audition, Ed was asked to bring a sax to the audition if he could play it. Ed figured that it'd increase his chances of getting into the orchestra on clarinet if he learnt to play the saxophone so he taught himself the instrument in four weeks (luckily his sister, Annabelle, was learning how to play so he 'borrowed' her alto sax!).
To his surprise and, at the time, disappointment, he was rejected on clarinet but landed the principal alto sax role in the NYO for 2001-2002. It was then that Ed knew that that was what he was destined to be: a sax player.
Ed's Early Years
Ed was never formally trained on the saxophone, he is self-taught. His passion and drive got him to where he is today, along with an extensive training in Britain's National Youth Jazz Orchestra (NYJO).
Born in September 1984, Ed began his musical studies at the age of seven on the piano and started clarinet lessons at the age of ten after hearing the late Acker Bilk's, Stranger on the Shore. He is still an accomplished clarinettist and pianist, having been awarded Diplomas by the Associated Board of the Royal Schools of Music (ABRSM) on both instruments. He performed the piano solo to George Gershwin's Rhapsody In Blue in a series of concerts around the UK when he was seventeen. But it was the saxophone that Ed came into contact with, completely by accident, at the age of sixteen that changed his life forever…
Between 2006-9, Ed played sax with NYJO and in 2009 he was asked to become lead alto – an opportunity offered to very few sax players. Ed's playing with NYJO took him all around the UK and culminated in him leading the band at Ronnie Scott's Jazz Club in London.
Ed's role with NYJO meant he got to meet his favourite saxophonist, Nigel Hitchcock, with whom Ed wrote a book in 2011: The Solos of Nigel Hitchcock – a transcription book of Nigel's improvised sax solos, endorsed by the jazz author, Jamey Aebersold.
It is this background of self-education that makes Ed's solo style so unusual, with years of thought and study having gone into his sound and harmonic vocabulary.
Ed now resides between London and LA and is a Selmer Artist and Clinician.